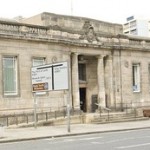 Leith Neighbourhood Partnership recently moved into its new home in the Leith Library on Ferry Road.
Over the past few months, the building has been undergoing a bit of a makeover – and what a difference a few months can make!
Not only has the building been re-painted and re-carpeted, but the cupula has also been given a thorough clean, ridding it of years of grime and making the whole place seem a lot brighter! This, along with the new furniture and fittings, has brought the old place to life, and it's now a lot more welcoming.
The Registry is also due to be revamped, and I can't wait to see what's done with it. It really is a hidden gem in the library, and has long been crying out for a little TLC.
At the other end of the complex, The Thomas Morton Hall continues to be occupied by Dance Base. Not only is it great to see the Hall being used by such a worthwhile organisation, but I think we've got a fantastic community resource there.
Unfortunately it's not all good news, as the Leith Theatre is still in a sorry state. However, I'm hopeful that there may be a future opportunity on the horizon, perhaps in a joint venture, which will put this fantastic landmark back on the map and make regular use of it.
On the whole though, the complex is looking much better, and I hope that along with the newest residents, the Neighbourhood Partnership, this resource will continue to go from strength to strength and remain as a vital resource for the local community.