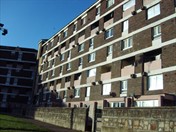 The gradual re-housing of residents at Fort House is continuing and there are very few tenants still remaining.
This final decanting has taken time in order that residents can find suitable accommodation in an area that suits them, and where the properties have the required number of rooms.
It is hoped that all families will be re-housed by October, when demolition can begin.
The demolition will be a gradual one due to the location of the building, and the types of building materials used. So there will be no "big bang". The Wall is listed so will remain.
My two hopes for this massive project for the area are that residents are re-housed in properties that suit their needs and aspirations, and that once the building is razed to the ground it is replaced by something of suitable substance and design to be an icon representing the best of modern design and architecture.
Leith deserves nothing less!