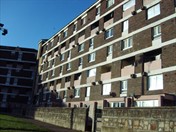 It is hoped to have a contractor for the redevelopment in place and working on site by March of next year.
Edinburgh architect Malcolm Fraser has been appointed to lead the design team preparing a masterplan for the Fort Site. Malcolm Fraser is one of Edinburgh's top architects, whose work includes the Storytelling Centre on the Royal Mile.
I am sure the project is in really good hands and he'll come up with an innovative design worthy of this site. The Neighbourhood Team are working hard to make the site available, as an empty space such as this can attract antisocial behaviour. This in turn makes life difficult for neighbours and uses up valuable police resources.