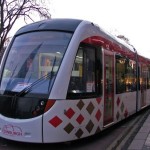 The road works at Lindsay Road, which seem to have been an almost permanent feature, are to be completed as part of the Tram Works re-negotiation. This is following the intervention of the Leader of the Council.
High-level talks took place to break the impasse between the contractors and TIE, who at the time were the company set up to lead the project.
Similar works will be completed by the contractor at the Tram Depot, Haymarket Yards, and of course on Princes Streetat no extra cost to tax-payers.